17th International Symposium on Long Range Sound Propagation
It is our pleasure to announce that the 17th International Symposium on Long Range Sound Propagation will be held in Ecole Centrale de Lyon, Lyon, France on June 12-13, 2018.
The symposia on Long Range Sound Propagation (LRSP) have a long history. The first symposium took place in 1981 at Diamondhead, MS USA. Since then, it has been held every two or three years between US and Europe. The proceedings of the previous symposia can be found on the webpage of the LRSP.
Presentations on all aspects of long range sound propagation are welcome including wave propagation, source modeling, signal detection and analysis, uncertainty quantification and instrumentation. Focuses will include ground and meteorological effects on signal propagation, acoustics for atmospheric sounding, wind noise, infrasound, sonic boom, numerical methods for long range sound propagation, acoustics in urban environment and acoustic monitoring of man-made and natural hazards.
The program of the LRSP XVII can be downloaded here. A slot of 25 minutes is allocated for each presentation. The talk should not exceed 20 min, allowing time for questions. The symposium will take place in Amphi 1, building W1 on the campus of Ecole Centrale de Lyon.
A preliminary version of the proceedings can be downloaded here.
Ecole Centrale de Lyon
Directions to reach ECL
Gala dinner
For the conference gala dinner, we will take a dinner cruise on the Saône river from the confluence to Ile Barbe. The dinner cruise will be held on the evening of Tuesday 12 June on the boat Ville de Lyon of LyonCityBoat.
The departure and arrival are at 2, Quai des Célestins - Lyon 2e, on the right bank of the Saône River, close to place Bellecour. You can get there from metro A or D, stop Bellecour, and 10 minutes-walk from place Bellecour. The boarding time is 7:30 PM and the returning time is 10:15 PM.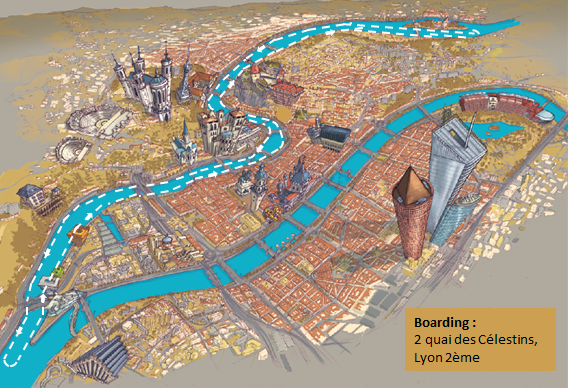 Accomodation
A selection of hotels in Lyon and Ecully is indicated below.
Campanile Ecully **
42 avenue Guy de Collongue
69130 Ecully
Tél. : +33 4 78 33 16 93
Fax : +33 4 78 33 35 80
Email : lyon.ecully AT campanile.fr
Campanile Lyon - Perrache **
17 place Carnot
69002 Lyon
Tél. : +33 4 78 37 48 47
Fax : +33 4 78 37 29 98
Email : lyon.perrache AT campanile.fr

Hôtel Le Lumière **
26 rue Villon
69008 Lyon
Tél. : +33 4 78 00 66 81
Fax : +33 4 78 00 08 43
Email : hotel-lumiere AT orange.fr
Hôtel du Simplon **
11 rue Duhamel
69002 Lyon
Tél: + 33 4 78 37 41 00
Fax + 33 4 78 37 12 72

Hôtel des Célestins **
4 rue des Archers
69002 Lyon
Tél. : + 33 4 72 56 08 98
Fax : + 33 4 72 56 08 65
E-mail: info AT hotelcelestins.com
Best Western Saint Antoine ***
1 rue du Port du Temple
69002 Lyon
Tél : +33 4 78 92 91 91
Fax: +33 4 78 92 47 37
Email : accueil AT hotel-saintantoine.fr
Hôtel des Artistes ***
8 rue Gaspard - André
Place des Célestins, 69002 Lyon
Tél. : +33 4 78 42 04 88
Fax : + 33 4 78 42 93 76
Email : reservations AT hotel-des-artistes.fr
Hôtel Mercure Plaza République ***
5 rue Stella
69002 Lyon
Tél. : + 33 4 78 37 50 50
Fax : + 33 4 78 42 33 34
E-mail: H2951 AT accor.com
Novotel Lyon La Part Dieu ***
47 Bld Marius Vivier Merle
69003 Lyon
Tél. : +33 4 72 13 51 51
Fax : +33 4 72 13 51 99
E-mail H0735 AT accor.com
Radisson Blu Hotel Lyon ***
129 Rue Servient
69003 Lyon
Tél. : +33 4 78 63 55 00
Fax : +33 4 78 63 55 20
info.lyon AT radissonblu.com
Hôtel Le Royal Lyon ***
20 Place Bellecour
69002 Lyon
Tél. : + 33 4 78 37 57 31
Fax. : + 33 4 78 37 01 36
E-mail: h2952 AT accor.com