Inauguration de la chaire ARENA - 18 mars 2019 - programme
Aeroacoustics of New Engine Architectures in Aeronautics
The ARENA industrial chair project led by Christophe Bailly, Professor at the Ecole Centrale de Lyon, has been selected by the Agence Nationale de la Recherche (ANR - 2018 edition). The ARENA Chair is dedicated to the noise of future engine architectures in aeronautics, with a budget of € 2 million, half of which is financed by Safran Aircraft Engines and half by the ANR (The French National Research Agency).
The Advisory Council for Aeronautical Research in Europe (ACARE) has recently confirmed through its Strategy Research and Innovation Agenda (SRIA) update the European vision of the Aviation noise situation in 2050. This vision can be translated into operational targets: perceived noise will be reduced of 50% by 2020 and of 65% by 2050 (-15 dB/operation) relative to the year 2000. Similar goals are also supported by the French Conseil pour la Recherche Aéronautique Civile (CORAC). In this context, the present project addresses noise emissions of new engine and aircraft architectures expected beyond 2025.
Considering in particular the stronger coupling between the aircraft and the engines on such future designs, the ARENA Chair aims at understanding and modelling the impact of novel installation conditions on engine noise generation, propagation and radiation. A particular focus is put on the engine fan stage, which is the main noise source at take-off and landing in the latest engine generation.
Ecole Centrale de Lyon (ECL), and Safran Aircraft Engines (Safran AE) have a long history of collaboration on aircraft engine noise issues. These collaborations involve unique experimental facilities on an international scale, and on LabEx CeLyA, which has been bringing together since 2011 all the acoustic research activities in Lyon and Saint-Étienne. ARENA will also contribute to consolidating the technical and scientific leadership in aeroacoustics of Centrale Lyon and the LMFA for research, and the Master of Acoustics accredited by the University of Lyon for teaching.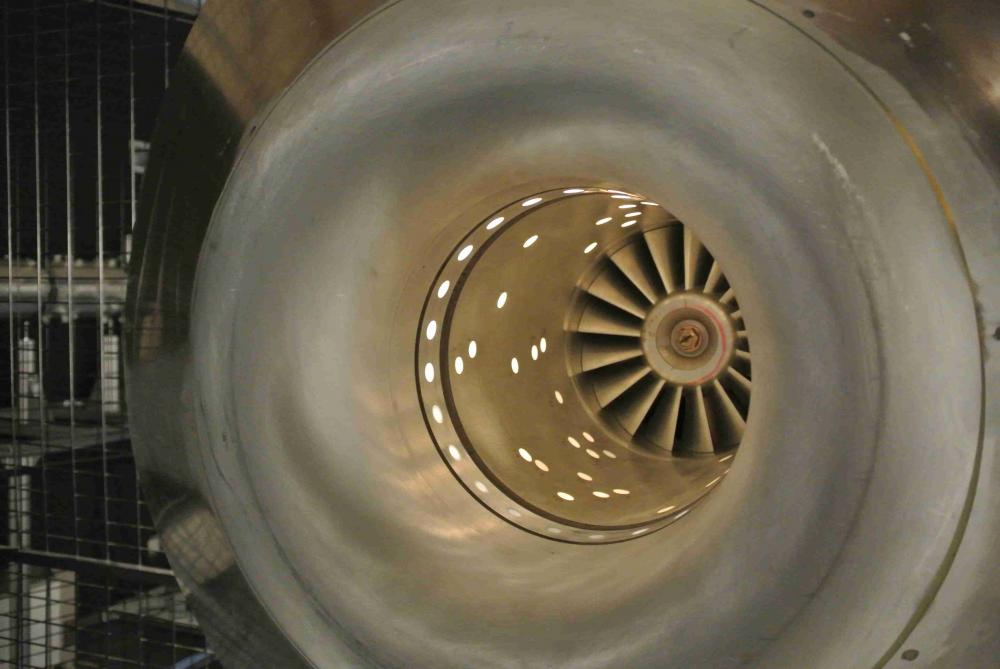 LP3 facility of the LMFA, UMR CNRS 5509. This facility is used for fan noise studies, performed at a good scale to develop research work, e.g. advanced in-duct modal detection using a large number of pressure probes.
Aéroacoustique des nouvelles architectures de moteur en aéronautique
Le projet de chaire industrielle ARENA porté par Christophe Bailly, professeur à l'École Centrale de Lyon, a été sélectionné par l'Agence Nationale de la Recherche (ANR - édition 2018). La chaire ARENA est consacrée au bruit des futures architectures de moteur en aéronautique, avec un budget de 2M€ financé pour moitié par Safran Aircraft Engines et pour moitié par l'ANR.
Le Conseil consultatif européen de la recherche aéronautique (ACARE) a récemment confirmé par le biais de son programme stratégique de recherche et d'innovation, la vision européenne du bruit dans l'aviation en 2050. Cette perspective peut être traduite en objectifs opérationnels : le bruit perçu devra réduit de 50% d'ici 2020 et de 65% d'ici 2050 (-15 dB/opération) par rapport à l'an 2000. Des objectifs similaires sont également soutenus par le Conseil pour la Recherche Aéronautique Civile (CORAC). Dans ce contexte, le présent projet porte sur les émissions sonores des nouvelles architectures de moteurs et d'avions prévues au-delà de 2025.
Pour atteindre ces objectifs, les nouvelles conceptions d'aéronefs du futur font apparaître des couplages plus importants entre l'avion lui-même et les moteurs. La chaire industrielle ARENA a pour objectif de comprendre et de modéliser l'impact de ces nouvelles conditions d'installation des moteurs sur la génération, la propagation et le rayonnement du bruit. Un accent particulier est mis sur le fan (appelé aussi soufflante, grande roue visible à l'entrée d'un moteur d'avion), qui est la principale source de bruit au décollage et à l'atterrissage.
L'École Centrale de Lyon et Safran Aircraft Engines collaborent depuis longtemps sur les problématiques du bruit des moteurs d'avion. Ces collaborations s'appuient sur le Laboratoire de Mécanique des Fluides et d'Acoustique, LMFA, UMR CNRS 5509, disposant de moyens expérimentaux exceptionnels à l'échelle internationale, et sur le LabEx CeLyA qui fédère depuis 2011 toutes les activités en acoustique des laboratoires de Lyon et Saint-Étienne. ARENA va également contribuer à consolider le leadership technique et scientifique en aéroacoustique de Centrale Lyon et du LMFA pour la recherche, ainsi que le Master international d'Acoustique labellisé par l'Université de Lyon pour l'enseignement.